0 Comments
By Triad Supply Chain
E-commerce has forever changed how consumers purchase product on a global basis. Rapid technological advances by retail giants such as Amazon, Walmart and Alibaba have forced merchandisers, wholesalers, and manufacturers to develop an omnichannel approach to stay competitive and facilitate growth.
Omnichannel selling is the concept of tapping multiple channels to sell merchandise. They typically include retail stores, online markets, and third-party distributors. The internet has made it easier than ever for consumers to shop anywhere and at any time, with an endless supply of product, prices, and delivery options at their disposal.
Bloomberg reports that 94% of consumers consider real-time product inventory to be "critical when choosing a retailer" through a digital medium. As a result, ensuring that items are available and delivered on time is more important than ever.
Industry leaders in retail and e-commerce are investing billions each year in technology and infrastructure to grow market share and create advantages in their favor. These advantages are targeted to provide consumers the best possible experience at a cost that the average company can't match. They include best product selection, lowest prices, free shipping and returns, and same- and next-day delivery.
In order to compete, omnichannel sellers need to deploy next-generation technology. They're looking to software-as-a-service (SaaS) companies to implement cutting-edge systems at fractional prices to match and exceed the capabilities of their major competitors.
Considering the cost of running omnichannel logistics (see chart below), it's no surprise where companies are turning to pinch pennies. The question, then, is who can offer competitive services, and more importantly, how?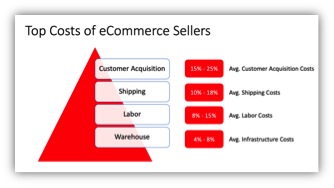 SaaS platforms are attempting to level the playing field in today's hyper-competitive market. These companies develop the tools to manage the most essential logistics functions for any business, large or small. Such services provide the speed, efficiency, and accuracy needed to cut costs and improve sales, allowing customers to:
Reduce oversells and undersells via real-time inventory management,

Cut shipping fees using packing logic and rate shopping,

Optimize warehouse pick-and-pack processes to improve employee efficiencies,

Expand visibility across warehouses and stores to allocate inventory for orders, and

Maximize space within the warehouse to accommodate SKU proliferation.
These accomplishments are now delivered through all-in-one platforms, offering a single source of truth for sellers. SaaS systems are accessed through the internet, with monthly subscription fees that provide best-in-class technology at an affordable price. In most cases, the return on investment can be achieved in less than six months.
To compete in today's e-commerce landscape, companies need to become more efficient in managing inventory, labor, orders, and facilities, and a next-generation application is a must. But a great application alone won't beat the competition. So what else goes into enabling these successes?
Logistics companies and those they employ are ultimately mail carriers. They excel at moving and managing goods, a practice that took many centuries to perfect. But while they were busy figuring out the best way to get products from A to B, a new threat was creeping into the picture. That threat was the internet, a mean machine that quickly forced an entire generation to bend to its will.
So how are logistics providers supposed to account for this foe? They aren't information-technology experts, at least not by trade. Nor are their counterparts. In fact, very few people have the time or smarts to effectively meet the demands imposed by this new frontier, which is why the industry has seen a paradigm shift toward cloud computing.
In essence, cloud technology allows for a new kind of business partnership, one in which each party focuses on what it does best. Cloud services are marrying their businesses to enterprise platforms to tackle the most pressing challenges presented by today's omnichannel demands. Why? Because while one party succeeds in the management and movement of goods, the other does the same for the data required to accomplish those feats.
Moreover, autonomous technologies eliminate much of the cost, error, and labor associated with running traditional in-house infrastructures, resulting in immediate improvements against one's bottom line. Here are a few of the reasons for partnering with cloud providers:
Cloud platforms can be technically and financially attractive. Multi-tenant architecture provides a methodology for continuous improvement, and the shared infrastructure saves on cost.

The platform is updated on a monthly basis, ensuring that all subscribers have access to the latest software without time-consuming and expensive upgrades.

Support is usually included with the cloud subscription, which reduces costly maintenance plans and internal resource requirements.

Redundancy is typically built into the architecture, which provides failover capability in case of a systemwide failure.

There's a built-in strategy for automated disaster recovery.

Security is designed into all levels of the platform.

Elastic architecture allows for seamless growth and accommodates seasonal spikes in demand.
Logistics has always required partnerships, from the retailer selling goods to the carrier that ensures speedy delivery. The cloud provider is the newest player in that ecosystem, and as customer expectations become increasingly demanding, it will be a key component moving forward.
With SaaS platforms offering the tools to optimize logistics, and cloud companies delivering those tools in a fast, cheap, and secure manner, the omnichannel retailer is less and less at the mercy of large corporations when distributing products to consumers. Just as Nike recently announced that it will eliminate its partnership with Amazon, so too will many companies follow suit in the coming years. SaaS platforms will lead the charge as new waves of retailers take back power from today's giants, and the orchestration of buying, selling, and moving goods continues to evolve in the coming years.
To put it simply: Over time, technology will always be the great equalizer, and in e-commerce, the game has only just begun.
Craig Wilensky is CEO of Jasci Software.